General
The job of a paralegal changes from day to day. Because of this, aspiring paralegals need to have a firm understanding of the legal system and law office practices. Paralegals and legal assistants help lawyers prepare for hearings, trials, and meetings by taking on tasks including investigating and gathering facts, reviewing and organizing important case documents, conducting research, drafting reports and other legal documents, and speaking with clients.
No, while both a paralegal and a legal secretary are vital in assisting lawyers, they are not the same. Paralegals are often more involved in the legal side of preparing a case, while legal secretaries focus more on clerical work. This distinction is often the reason that so many paralegals seek out a more specialized education like a paralegal certificate.
Yes, many lawyers have gotten their start as paralegals. As a paralegal, it is integral that you have a deep understanding of legal terminology, the American legal system, critical reading and researching, and law office administration. These are all things that put you one step ahead when looking to transition into law school.
Paralegals build dynamic, fulfilling careers, in which they can make a significant impact on peoples' lives. The expansive landscape of the legal system also gives paralegals the chance to specialize their practice in different fields of law, including:
Corporate law
Family law
Immigration law
Intellectual property law
Real estate law
Healthcare law
Appellate law
Criminal defense
According to the real-time market analytics software company, Burning Glass, the job market for paralegals and legal assistants is expected to grow 14 percent by 2030, much faster than the national average for other professions. An online paralegal certificate can also give you a salary boost in as little as fourteen weeks. The U.S. Bureau of Labor Statistics states that the median salary for paralegals in 2021 was $56,230 per year.
About the Program
The course length is fourteen weeks; however, students may work ahead and complete course requirements as quickly as they desire.
Students must complete all required assignments with a score of 80 percent or better.
Yes, while there are weekly live virtual sessions, attendance is not required as these sessions will be recorded for future reference. All coursework in this program can be completed fully asynchronously. Learn more about our curriculum
here
.
Yes. There are weekly, live virtual sessions that you can attend to ask questions. You can also contact your instructor via email and she will get back to you within forty-eight hours.
Requirements are defined by the learning management system, Canvas:
Operating Systems

Windows 8.1 and newer
Mac OSX 10.6 and newer
Linux – Chrome OS
Chromebook – Chrome OS

Computer Speed and Processor

Use a computer five years old or newer when possible
1GB of RAM
2GHz processor

Internet Speed
Screen Readers

Macintosh: VoiceOver (latest version for Safari)
PC: JAWS (latest version for Firefox; we currently do not support the Edge browser for accessibility)
PC: NVDA (latest version for Firefox)

Supported Browsers

Chrome 92 and 93
Firefox 91 and 92 (Extended Releases are not supported*)
Edge 92 and 93
Respondus Lockdown Browser (supporting the latest system requirements)
Safari 13 and 14 (Macintosh only)
This is a part-time program designed for working professionals and can be completed in fourteen weeks with an average weekly time commitment of three to five hours.
No, but we've found that most employers place more value on the real-world experience and writing samples we equip students with, as well as the top-notch research reputation of UT when considering an applicant who's earned the certificate.
Students who complete our program will have earned a certificate from the UT Center for Professional Education & Lifelong Learning that they have met the established academic requirements. However, certification is granted through outside agencies: UT is not a certifying body in the paralegal field. Currently, there is no mandatory certification requirement for paralegals in the U.S., though California does require people employed under titles such as "paralegal" and "legal assistant" to meet certain educational/experiential qualifications and continuing education requirements. For more information on additional requirements for California residents, please visit the
Los Angeles Paralegal Association website
.
Yes, you will earn 6.8 Continuing Education Credits upon completion of our program based on total contact hours.
No, but NALA certification is not required for you to become a paralegal. Currently only approximately 2.6% of paralegals have the Certified Paralegal (CP) designation.* Our program is designed to provide you with the foundational skills to best equip you to begin a paralegal studies career within three to four months.
*According to US Bureau of Labor Statistics and NALA
Registration
The online Paralegal Studies Certificate is one fourteen-week course. You will only need to enroll in the program.
Yes, the certificate will be awarded physically via mail by the UT Center for Professional Education & Lifelong Learning within about ten days of completing the program. You will also receive a digital certificate that can be used on your social media accounts.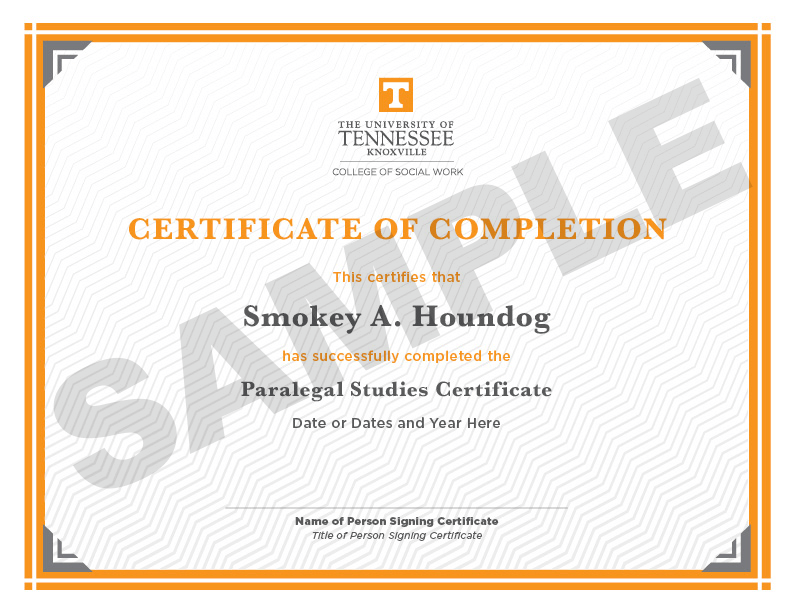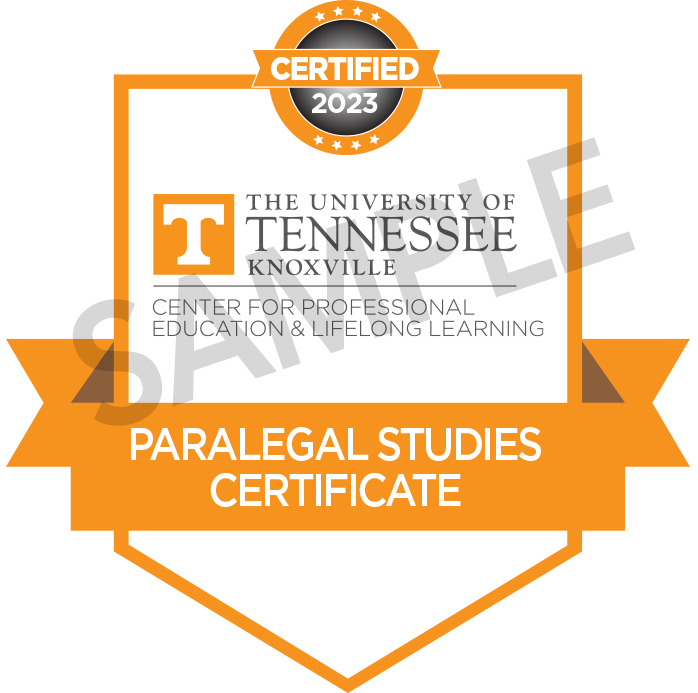 You can start registering for the course
here
. If you have questions or are interested in a walkthrough of the process, please contact one of our enrollment specialists toll-free at
866-967-3486
or
paralegalcertificate@utk.edu
.